RECONDITIONED BY LANCO CORPORATION
FILTER PRESSES
Looking for high-quality filter presses?
Look no further than Lanco Corporation for your next reconditioned filter press. We specialize in buying, selling, trading, appraising, and removing quality used metal finishing, waste treatment, and additional industrial equipment, with a particular focus on filter presses.
Our reconditioned filter presses are thoroughly inspected and restored to top-notch condition by our team of experts. We understand the importance of reliable equipment for smooth and efficient operations, and that's why we only offer the best in filter presses.
VIEW INVENTORY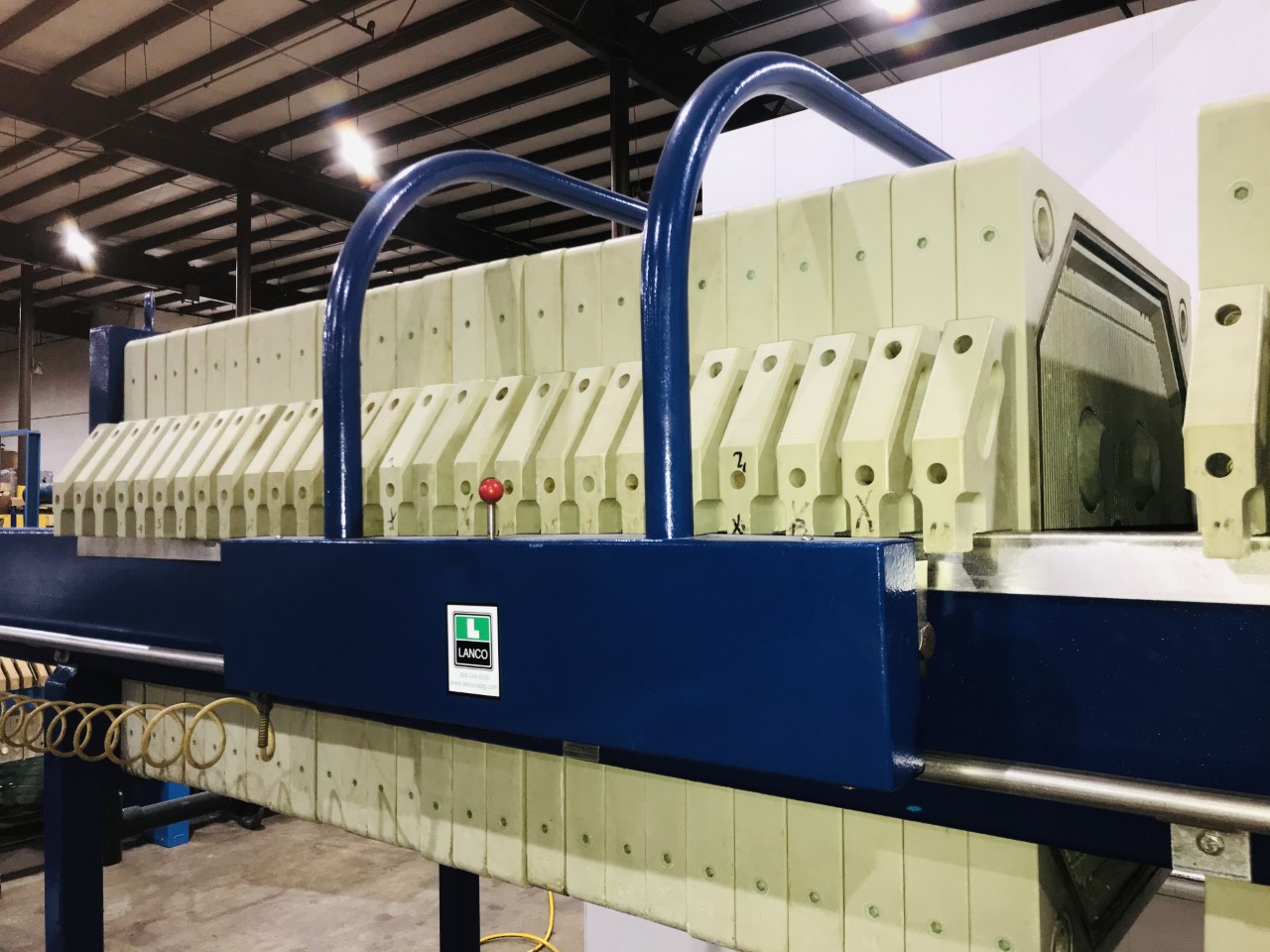 Filter presses are an essential piece of equipment for various industries that need to separate solids from liquids. This process is known as filtration, and it is essential in many different industries, including food and beverage, pharmaceuticals, mining, and wastewater treatment.
A filter press is a mechanical device that is used to separate solids from liquids through a filtration process. It is a unique piece of equipment that uses pressure to force the liquid through a filter medium, leaving the solid particles behind. The filtered liquid is then collected in a separate container for further processing or disposal.
HOW DO FILTER PRESSES WORK?
The filter press operates by using a series of plates and frames. These plates are arranged in a stack, and each plate has a filter medium, usually a cloth or paper, that allows the liquid to pass through while retaining the solid particles. The plates and frames are arranged in a way that forms a series of chambers. These chambers are filled with the slurry that needs to be filtered.
Once the chambers are full, the filter press is activated, and pressure is applied to the slurry. This pressure forces the liquid through the filter medium, leaving the solid particles behind. The filtered liquid then passes through the outlet port and is collected in a separate container.
FILTER PRESS MAINTENANCE
The maintenance of the filter press is relatively simple. After each use, the plates and frames are cleaned and inspected for any damage or wear. If any damage is detected, the damaged parts are replaced to ensure that the filter press operates at its optimal efficiency.
SOME OF THE ADVANTAGES OF FILTER PRESSES
The filter press has several advantages over other filtration methods. For instance, it can filter large volumes of slurry quickly, and it is highly efficient in separating solids from liquids. Additionally, the filter press can be used with a variety of filter media, which makes it suitable for different types of slurry and liquid.
LANCO'S FILTER PRESS reconditioning process
RECONDITIONING PROCESS
STEP 1.
Receive the used filter press into our warehouse in Sparta, MI. Disassemble the plumbing, mechanical components, hydraulic pump, lines etc.
RECONDITIONING PROCESS
STEP 2.
The filter press frame is sandblasted to remove all paint, impurities and rust.
RECONDITIONING PROCESS
STEP 3.
The frame is inspected at Lanco and necessary sections are replaced with new steel, as needed. Mar-Glass is applied to fix surface area imperfections.
RECONDITIONING PROCESS
STEP 4.
Primer is applied to the entire filter press frame.
RECONDITIONING PROCESS
STEP 5.
The reconditioned steel frame is then painted with two coats of oil-based paint.
RECONDITIONING PROCESS
STEP 6.
The gasketing and cloths are removed from the filter press plates. The plates are steam pressure washed removing all contaminants and debris.
RECONDITIONING PROCESS
STEP 7.
New PVC plumbing is installed. CPVC or Stainless Steel plumbing can be installed upon request.
RECONDITIONING PROCESS
STEP 8.
The hydraulic lines, cylinder and pump are tested and checked for performance quality. The cylinder is rebuilt by a local company and new lines/pump are installed as-needed as well. New cloth and gasketing can be added to the filter press at this time at the customer's request.
RECONDITIONING PROCESS
STEP 9.
The filter press is fully refurbished and ready to ship. A video is provided to the customer showing the working condition of the unit.
EXPLORE OUR FILTER PRESS SIZES
Whether you're in the market for a small filter press or a larger one, we have you covered. Our team of experts can help you determine which size and capacity best meet your requirements, ensuring that you get the most efficient and cost-effective solution.
SHOP QUALITY filter presses
With our focus on high-quality reconditioned filter presses, exceptional customer service, and commitment to finding the best solution for your specific needs, Lanco Corporation is your go-to source for industrial equipment. Contact us today to learn more about our range of sizes and how we can help you take your operations to the next level.
VIEW INVENTORY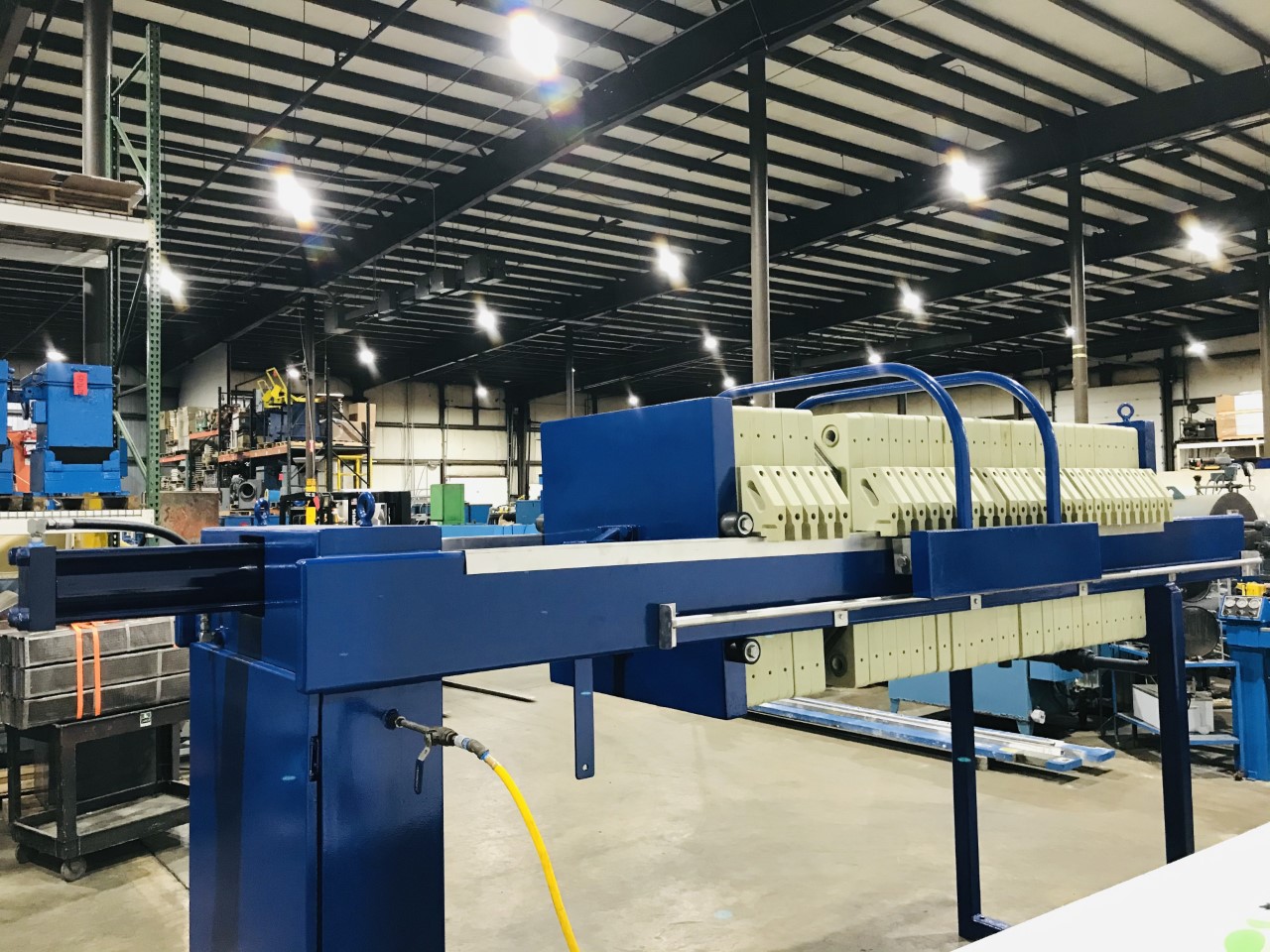 WE BUY USED FILTER PRESSES

If you have any filter presses that you no longer need, we can help you sell them quickly and easily. Our team of experts can appraise your equipment and offer you the best price for it. We buy, trade, appraise and sell waste treatment and metal finishing equipment throughout the world. We are interested to see what you have, so don't hesitate to contact us regarding your obsolete or surplus used equipment.
SELL FILTER PRESSES